In this blog post, we'll explore 5 tips to transform your kitchen into a space that combines luxury and functionality. Discover practical advice on creating an elegant and highly functional kitchen that elevates your home.
Your kitchen is the heart of your home, and it should reflect both your style and practical needs. Achieving a luxurious and functional kitchen might seem like a challenging task, but with the right tips and guidance, it's entirely possible: 
1. Streamlined design
The concept of "streamlined design" translates into a kitchen aesthetic that aims for simplicity and functionality without sacrificing elegance. In this approach, design elements are kept clean and uncluttered, utilizing straight lines, geometric shapes, smooth surfaces, and a harmonious color palette.
Key to "streamlined design" in the kitchen is the removal of unnecessary ornaments or overly embellished decorations. Cabinets and furniture often feature smooth fronts and slim profiles, creating a minimalist look. Work surfaces are uniform and easy to clean, contributing to the functionality of the space.
Efficient organization and storage are essential elements of "streamlined design." This is achieved through smart storage solutions, like pull-out drawers, well-planned shelves, and organizational systems that keep utensils and accessories out of sight but within easy reach.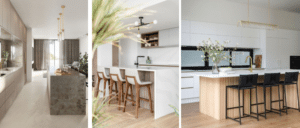 2. High-quality materials
Invest in high-quality materials for your kitchen surfaces. Materials like granite, marble, or quartz not only lend a luxurious look but also offer durability and ease of maintenance.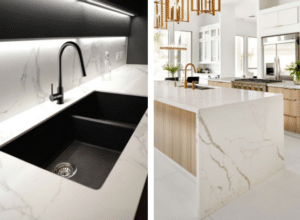 3. Smart storage solutions
Maximize your kitchen's functionality with smart storage solutions. Incorporate pull-out pantry shelves, deep drawers, and custom cabinetry to keep your kitchen organized while maintaining its sleek appearance.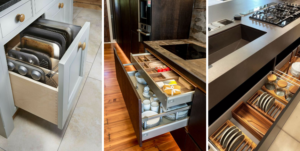 4. Premium appliances
Opt for premium, energy-efficient appliances that blend seamlessly with your kitchen's design. Stainless steel appliances and integrated options can add a touch of luxury.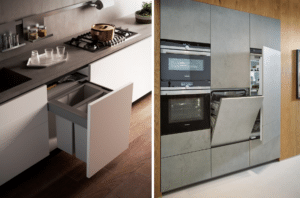 5. Thoughtful lighting
Lighting is a key factor in creating a luxurious atmosphere. Install task lighting for cooking, ambient lighting for a warm ambiance, and decorative lighting to accentuate your kitchen's features.
By applying these tips, you can turn your kitchen into a space where luxury and functionality harmonize beautifully. Your kitchen will become not only a centerpiece of your home but also a highly efficient and enjoyable workspace.
At Hausscape, we offer the world's most luxurious and high-quality kitchen brands, including Valcucine, Poggenpohl, and Alta Cucine, all crafted in Italy. Elevate your kitchen with the utmost in quality and elegance.
Explore our selection today to start your journey toward the kitchen of your dreams!